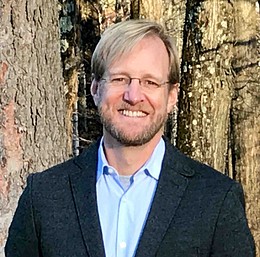 About the Artist
Anthony Surratt is a mixed-media abstract artist. While he adds many layers of texture, material and color to his paintings, it is frequently via methods of subtraction and excavation—sanding, scraping, wiping, gouging, sawing, digging—that their ultimate stories and meanings emerge.
His paintings have been exhibited throughout New England and Georgia and in online exhibitions. He is an active volunteer and artist member at Southern Vermont Arts Center and serves on the board of directors of Green Mountain Academy for Lifelong Learning, in Manchester, Vermont.

Surratt currently is pursuing a Master of Fine Arts degree ('23) from Maine College of Art & Design in Portland. He earned a bachelor's degree in communication from Anderson University (Indiana) and a certificate in interior design from Parsons School of Design in NYC.
Before working full-time as an artist, Surratt was a corporate communications and public relations executive for more than 25 years. He worked primarily in the cable TV and broadband industries, at Cox Communications in Atlanta and Time Warner Cable in New York City.

View his portfolio and current works in progress on Instagram: @anthonysurratt_art.